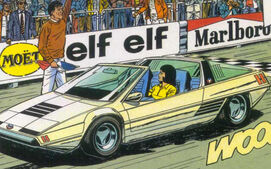 The Vaillante Francoise is a one of a kind concept car, designed by Jean-Pierre Vaillant's team as a wedding gift for Francoise Latour's marriage to Michel Vaillant. To date this prototype remains the only car produced.
Description
Edit
The Vaillante Francoise features a chassis comparable to a Lamborghini Countach, especially the nose. It lacks a roof and hasn't got any visible connection points for a removable one either.
Appearances
Edit
Ad blocker interference detected!
Wikia is a free-to-use site that makes money from advertising. We have a modified experience for viewers using ad blockers

Wikia is not accessible if you've made further modifications. Remove the custom ad blocker rule(s) and the page will load as expected.