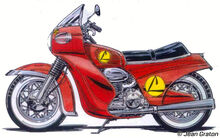 The Leader Motor is the very first design we see from Leader. Its drivers lead the unlucky Chuck Danver towards the waiting Leader in his car. According to the datafile Ruth obtained, these bikes feature a heavy 2-cylinder engine.
Appearances
Edit
Ad blocker interference detected!
Wikia is a free-to-use site that makes money from advertising. We have a modified experience for viewers using ad blockers

Wikia is not accessible if you've made further modifications. Remove the custom ad blocker rule(s) and the page will load as expected.