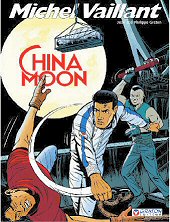 China Moon is the 68th album in the Michel Vaillant series, originally printed in 2006. It is one of three comics translated to English in 2007 (the others being The Great Challenge and 24 Hours Under the Influence).
Dutch: China Moon
French: China Moon
While the Vaillants prepare themselves for the very first race in China, the Grand Prix of China, Jean-Pierre introduces Michel to a cutting edge car. But when it goes missing, the culprits want Michel to come and get it personally, triggering a goose hunt throughout Beijing. Making matters worse, Michel has only nine hours to go until the start of the race...
Characters
Edit
Ad blocker interference detected!
Wikia is a free-to-use site that makes money from advertising. We have a modified experience for viewers using ad blockers

Wikia is not accessible if you've made further modifications. Remove the custom ad blocker rule(s) and the page will load as expected.